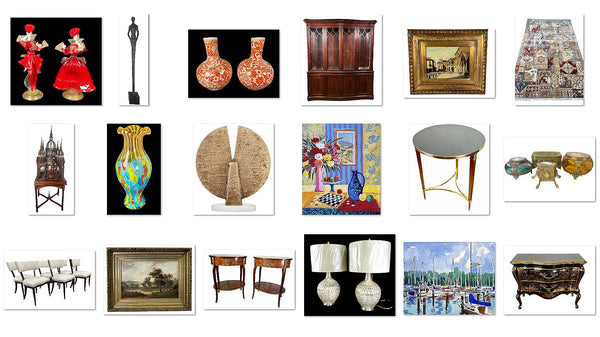 Sunday, Nov. 5th - Fine Art & Estate Furnishings
Join us Sunday, November 5th at 11 AM, for a captivating and exclusive event – our upcoming Fine Art & Estate Furnishings Auction.
We are thrilled to present a remarkable collection that spans various eras, showcasing the beauty of antique and modern art, as well as exquisite furnishings. This is a unique opportunity to immerse yourself in the world of art and history, where each piece tells a story and carries a legacy. Whether you're an avid art collector or simply appreciate the timeless beauty of antiques, this auction promises to be a memorable experience.
We welcome you to explore, bid, and be part of this extraordinary journey into the past and present. Join us for a day filled with art, culture, and the thrill of discovery on November 5th.
PREVIEW
Thursday & Friday, November 2 & 3 from 10 AM - 5 PM
Saturday, November 5th from Noon - 4 PM 
Auction Start Sunday, November 5th at 11 AM
LOCATION
7777 Blankenship Dr.
Houston, TX 77055
Map It
View catalog and register to Bid LIVE online on 1 of our 3 partnered platforms below: