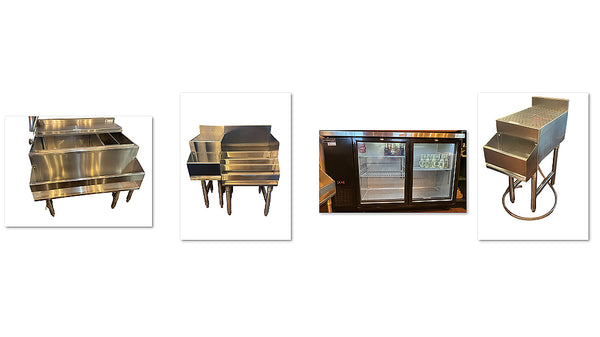 Wednesday, Sept. 13th - No Reserve Online Restaurant Auction
Join us online Wednesday, September 13th at Noon for a No Reserve Restaurant Liquidation Auction of all content.
Lewis & Maese Auction Company proudly presents an unparalleled No Reserve Restaurant Liquidation Auction, scheduled to take place on September 13th starting at Noon. This exciting auction will feature a delectable array of items, ranging from top-notch, gently used kitchen equipment such as multiple under counter coolers by Dukers and Krowne, stainless steel sinks with speed racks, ice bins, cleaning and drying stations, an ice machine and more! All tables and chairs and lighting offer an exceptional opportunity for restaurateurs, collectors, and individuals seeking quality pieces. The kitchen equipment available is gently used as the restaurant itself was only in business for 1 year. Most of the stainless steel is in great working condition and ready to be put to work for you!

Lewis & Maese Antiques & Auction is excited to bring the culinary world and auction enthusiasts together. The No Reserve Restaurant Liquidation Auction is a unique chance for attendees to acquire high-quality items at unbeatable prices. With no minimum bids and no reserves, this auction presents an exceptional chance to secure essential equipment, furnishings, and decor for both established
restaurants and newcomers to the industry.

The auction will showcase an impressive assortment of items, including state-of-the-art kitchen equipment designed to elevate culinary experiences. From stoves and ovens to refrigerators and dishwashers, these pieces are not only practical but also reflect the latest advancements in restaurant technology. 

"Our No Reserve Restaurant Liquidation Auction is a unique event that brings together the world of fine dining and the excitement of auctions. Whether you're a restaurateur looking to enhance your establishment or an individual seeking quality items, this auction offers an incredible variety," says Ernest Maese, Partner of Lewis & Maese Antiques & Auction. "We are proud to provide an opportunity for both sellers and buyers to come together and participate in a dynamic auction environment."

The auction will be conducted online, ensuring that individuals from around the world can participate and bid on their desired items. Lewis & Maese Antiques & Auction's commitment to transparency, professionalism, and customer satisfaction guarantees a seamless experience for all participants.

Whether you're an established restaurateur, an aspiring chef, or someone with a passion for quality pieces, this auction offers a chance to acquire top-tier items without reserve or hesitation.
View the online catalog and register to bid here:
Location
14795 Memorial Dr.
Houston, TX 77079
Map It
Preview Dates & Times
Monday and Tuesday, September 11 and 12 from 10 AM - 4 PM
Auction Pickup
Thursday or Friday, September 14 or 15 from 10 AM - 4 PM
Saturday, September 16 from 10 AM - 4 PM
- Anything left on site after 4 PM on Saturday, September 16th will be considered forfeited.
- Buyer must bring their own packing materials and manpower.